I had the most wonderful day with my mom today. Seriously, it was so definitely needed after the last month and a half of having to avoid her to a certain degree and go behind her back in order to flawlessly execute her surprise party. My mom and I are pretty close and it's pretty easy to say that I have missed her.
I love that we have cultivated this friendship together as adults. I really find it refreshing that not only do I have her support as my mother, but also as a best friend, because I read too many blogs out there of women who have so much less with their mothers, whether it is by their choice, their mother's choice or situational circumstances. We have this connection that just makes hanging out with her so unique and fun.
Needless to say, today was a blast. Totally evened out the humidity and made me glad, yet again, that I no longer live in California. Four years of missing out on days like this makes me sad.
We stopped at IKEA this morning to pick up a couple of things that she'd been wanting and then headed down to Washington Square for some high class shopping. Mom bought her first Brighton handbag and though I personally don't care for most Brighton things (I find a lot of them a bit too much) but the bag she wanted was so stinkin' cute and perfect for a summer handbag.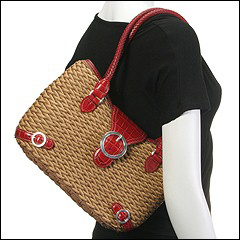 We then swung by Nordstroms where I got a spray of my favorite Nordstrom exclusive perfume. We priced it out (way too much for how little you get) so I suppose I will just have to resort to only smelling like that whenever I'm at the mall. Oh . . I love it so. (Just not enough to spend 125 dollars for 1.7 ounces. Woo.)
We enjoyed lunch together before having our wedding rings cleaned and inspected at the jeweler I got my wedding band from and looked at men's rings for Mike. Then we got down to business. Bathing suit shopping for New York.
I suppose I should explain to y'all where it is I am going, because the typical idea when someone says New York is the big Apple. But we are headed to upstate New York, to Seneca Lake, where my aunt and uncle have a home literally 100 feet from the lake. They have spent the better part of the last year and a half getting this reunion planned, including asking neighbors to be willing to take in some of the family members that are coming (like my family and I) for the stay of the trip. So seeing as how I am going to be a lake in the middle of July for a week . . . I need to have some type of swimsuit to wear that looks like I didn't buy it in high school. And I think I found the one:
(It's really cute on, I promise.)
I don't think I know anyone who enjoys bathing suit shopping and I have to go tomorrow or Tuesday to get some massive sunscreen, especially since before shopping today, my father showed me his new hat to protect his ears and the new pre-cancerous spots the doctor burned off this week. Got to love having pale, Irish skin.
I'm off this week from school, which couldn't work out more perfectly, because it allows me to get really ready for the trip, both packing and cleaning the apartment-wise, but also I can spend some quality time with friends that I have been missing out on. And Liz will be in town for the weekend, so there will be some mass Harper time. After I get this place scrubbed and get the pantry stocked for while I am gone.
Did I mention that Mike isn't going?